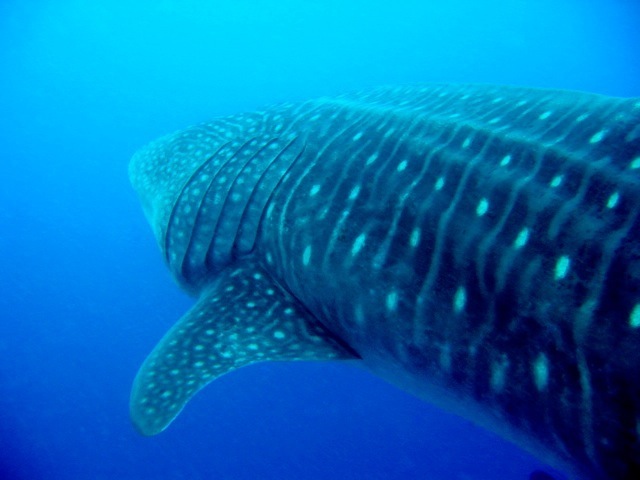 Donsol is a quiet fishing village in the Sorsogon province of the Philippines. In 1998 whale sharks were discovered feeding in the plankton rich waters along the cost of this village. Since that time, it's reputation has to spread far and wide, bringing snorkelers from all over the globe to swim with the gentle giants.
Whale sharks gather here in such numbers it is hard to fathom. It is estimated that as many as one thousand whale sharks maybe present during the peak of the season. Food, location and temperature all play a role in creating ideal conditions for the sharks. During the high season from December through May, encounters with whale sharks are all but guaranteed.
Conditions are challenging with often 3-4 meters of visibility (sometimes less). This is a snorkeling only location as one must jump in and out of the native crafts dozens of times in pursuit of whale sharks. Encounters are brief but can be very close and personal. Shooting video and taking photos is a daunting task as you have to enter the water with cam running and hope to get to the right spot to get the shot. If you are lucky, you may stumble on a shark in "relatively" clear water (4-5 meters visibility).
We spent 3 days during the full moon in April in search of whale shark encounters. In these three days we enjoyed over 45 encounters with at least 30 sharks. The good news about the full moon is that the numbers of encounters increase, the bad news is the visibility can be quite poor. April also tends to be peak viewing season. The sharks are present all year but the rain and wind in the "off" season make surface spotting all but impossible. Successful spotting requires sun (to locate the dark shadow on the surface) and low wind (to remove surface chop the breaks up the shadow).
WIth so many tourists and money to be made for the locals, Donsol's popularity is rapidly increasing.That being said, during peak viewing season it was still surprisingly quiet. The good news for the sharks is that increased tourist dollars means more chance for the sharks survival. The Philippines have been hunting and exporting whale sharks for years. In Donsol They are worth more alive than dead. Boats full of tourists certainly interfere with and annoy the whale sharks, however it is the only thing preventing their slaughter by poor fishermen. We were happy to contribute our US dollars to this cause.