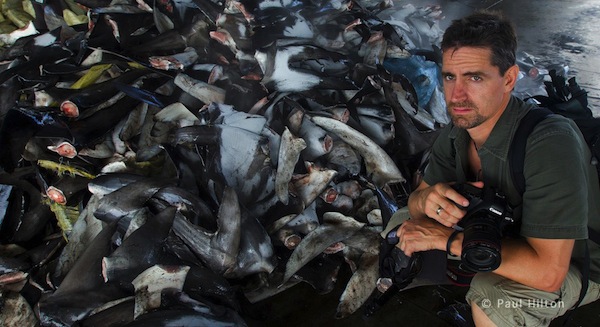 Our oceans are in immediate need of protection. Industrial fishing, pollution and marine debris, habitat destruction, coastal development, global warming, and ocean acidification, are all threatening to irreversibly destroy the ocean's delicate ecosystems. What was once considered an endless source of food to feed the planet is now on the brink of collapse. Many species of fish have now been depleted to less than 10% of their pre-industrial fishing levels in the past 50 years. Most of the delicate reefs that fringe the equatorial and tropical coastlines have been completely destroyed or are rapidly deteriorating. And of all the ocean creatures, sharks are now facing the greatest treats. Consider this:
Over 2 billion people depend on the oceans as their primary source of protein.
Over 1/2 billion people depend on the oceans as their primary means of employment.
Sharks evolved over 400 million years, surviving 5 major extinctions, keeping oceans in balance.
No other marine animal has the biology and life history necessary to fill the role that sharks play.
If we remove sharks, the entire system is put as risk, and may falter.
What happens if 2 billion people lose their food source and 1/2 billion lose their jobs.
Can we ever afford to take that risk?
Yet for the most part, people of the world are ignorant of this situation. As part of an international community of passionate individuals and organizations, we are working every day to raise global awareness of the tragedy that is unfolding before us, and fighting to drive change before it is too late.
Key areas of Shawn's conservation focus include ending the global slaughter of sharks, protecting manta and mobula rays, and establishing marine protected areas. He is a key member of team that has been creating marine protected areas in Raja Ampat, the heart of the Coral Triangle. As part of a special coalition, he is working to establish shark sanctuaries and shark fin legislation across the Pacific, Southeast Asia and the Caribbean. Recent wins in Raja Ampat, Hawaii, Saipan, Bahamas, and Guam attest to the importance of this endeavor. And as Project Lead for Manta Ray of Hope, the team has launched a global study, campaign, and documentary to address severe and escalating threat to manta and mobula rays. Shawn serves on the International Board of WildAid, on the Board of Shark Savers, is an Associate Director of Manta Trust, and an Associate Fellow of the International League of Conservation Photographers (iLCP).
Sea Hero of the Year Award
"We at Oris are proud to be the founding sponsor of Sea Heroes; and Shawn Heinrichs truly exemplifies the type of individual who was the inspiration for the program. Oris has a long history of supporting marine conservation and is proud to continue our commitment through the Sea Heroes program. Oris makes 'real watches for real people' — individuals who actively pursue life, stand up for what they believe in and do things as opposed to just talking about them. Shawn Heinrichs is certainly one of those individuals, and his hands-on approach to marine conservation has made him worthy of the 2011 Sea Hero of the Year award."
— V.J. Geronimo, CEO, ORIS Watches USA
Features on Shawn's Work:
Watch the Dan Rather Report on Shawn's work: For a Bowl of Soup
Watch  Anderson Cooper – Planet In Peril featuring Shawn's work: Battle Lines – Sharks
Leadership
WildAid – International Board
Shark Savers – Director
Manta Trust – Associate Director
Manta Ray of Hope – Project Leader
International League of Conservation Photographers – Associate Fellow
Current Projects
Indonesia Manta Sanctuary – Partner – In partnership with WildAid and Conservation International, a joint project to secure full national protection for manta rays in Indonesia. On January 28, 2014 the Indonesia government created the world's largest manta sanctuary, declaring manta rays fully protected in all of its 6 million sq. km. EEZ.
Manta Ray of Hope – Team Leader – Global project to expose the international exploitation of manta and mobula rays, enact international laws to end the trade in their parts, and create regional sanctuaries to protect them.
CITES Manta Listing – Partner – Oceans 5 Coalition International project that brings together scientists, policymakers, journalists and filmmakers, that successfully secured CITES Appendix II listing of manta rays at the 2013 CITES conference.
Ocean Outdoor Theater – Partner – Project to create global film series deploying a massive outdoor traveling theater to raise awareness and support campaigns for innovative marine conservation solutions.
Pacific Shark Initiative – Partner – An effort that brings support to the political campaigns that are developing within the Pacific Islands aimed at stopping the commercial exploitation of sharks and, in particular, the shark fin trade.
Raja Ampat – Misool Baseftin –Partner – Ongoing project to establish and maintain community-based protected areas and Regency Shark Sanctuary within Raja Ampat.
Haiti Sanctuary – Partner – Project to create a marine sanctuary, expand education, and develop marine eco-tourism within Haiti.
Services
Media
More