As shocking as it may sound and especially given all my shark film work, I had never seen an Oceanic White Tip shark in wild until my trip with Jim Abernethy this past June. Sadly, I had seen many Oceanic White Tip fins throughout the fisheries of Asia. When one considers that Oceanic White Tips have seen 90% to 99% declines in past few decade, it is not surprising we don't see them much anymore.
Perhaps the most exciting encounter occurred out in the open ocean in several thousand feet of water, when we dropped into a pod of pilot whales. As a dozen pilot whales swam past and below us, a curious Oceanic White Tip suddenly appeared and made a beeline for me. My heart raced because I felt quite vulnerable bobbing on the surface in just my bathing suit and snorkel gear. For a fleeting moment I wondered, " Am I going to become a statistic in the shark attack files"? But that thought evaporated immediately when the shark reached me. Contrary to popular myth, the shark was only curious and not the vicious beast it has been made out to be. I came right up to my camera, glanced into my dome to investigate what this strange creature was, then slowly drifted off into the blue, continuing its pursuit of the pod of pilot whales.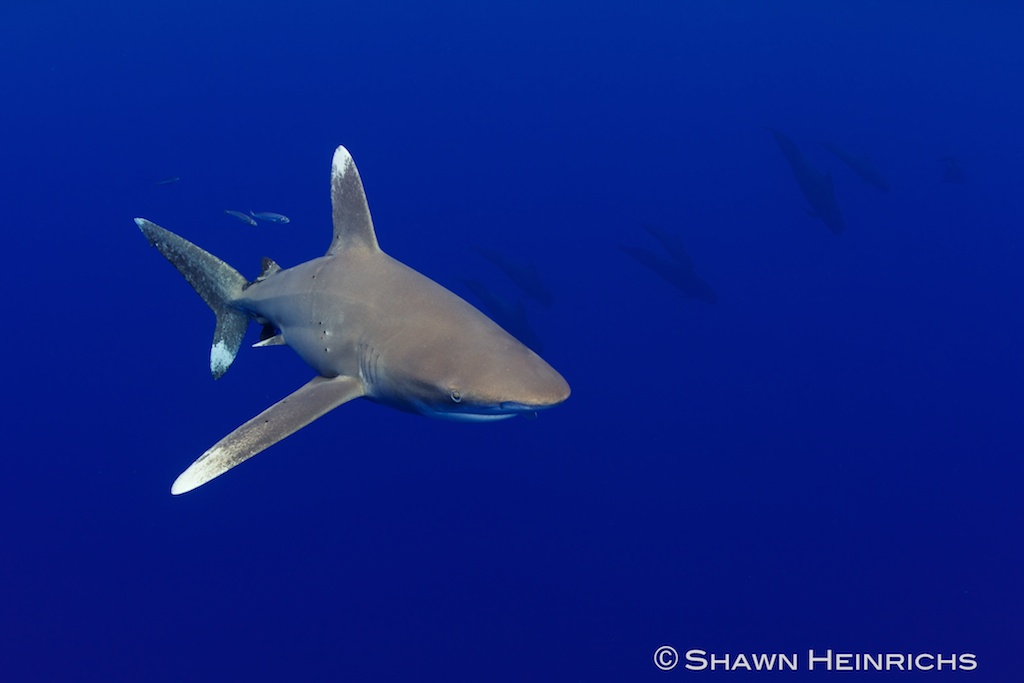 We captured stunning images and footage on this expedition and I am truly thankful to Jim for providing such an incredible first encounter opportunity for me with Oceanic White Tips!