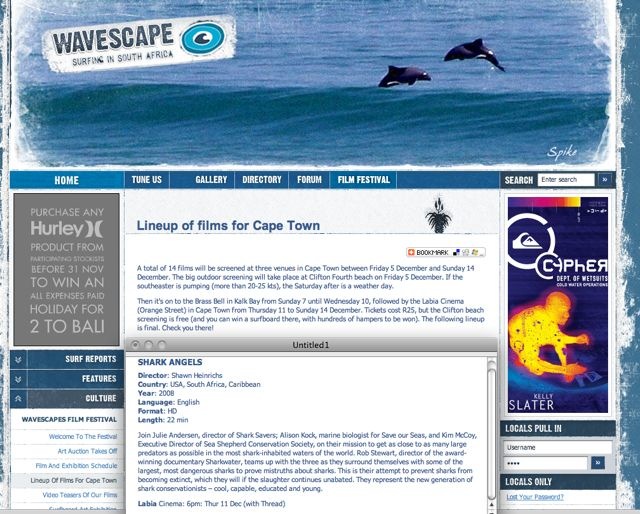 After a successful premier at that Durban Wavescape Surf Festival in July, Shark Angels will make a second showing at the Cape Town festival in December.
32 years after Jaws™ showed a defenseless woman being dragged underwater and devoured by an insatiable monster, three women have come together to debunk that fictitious image.
Join Julie Andersen, director of Shark Savers, Alison Kock, marine biologist for Save our Seas, and Kim McCoy, Executive Director of Sea Shepherd Conservation Society, on their mission to get as close to as many large predators as possible in the most shark-inhabited waters of the Caribbean aboard Jim Abernethy's vessel, the Shear Water. Rob Stewart, director of the award winning documentary Sharkwater, teams up with the threesome as they intentionally surround themselves with what are considered some of the largest, most dangerous sharks in the world.
All this to prove that society has been fed mistruths about sharks, which are actually amazing creatures that are being ruthlessly chased toward extinction. They represent the new generation of shark conservationists — cool, capable, educated and young — and have brought their organizations together for the first time to combat the myths about sharks, expose the truth and continue the grass roots movement begun by Sharkwater.
The shocking results were captured in high definition video and in still photos. The production will be released as a short documentary to broadcast, print and online media outlets around the world. Shawn Heinrichs of Blue Sphere Media, an underwater & conservation filmmaker, is producing, directing and lead underwater cinematographer on the film. World-famous photographer Eric Cheng served as still photographer and cinematographer. Cheng, the publisher and editor of Wetpixel.com and Wetpixel Quarterly Magazine, is a premier underwater still photographer whose work has been featured all around the world.