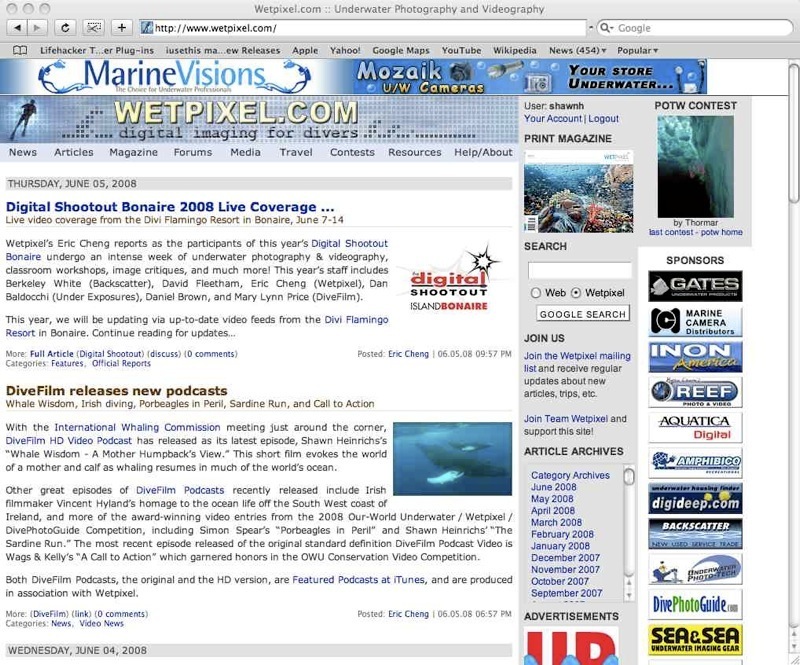 With the International Whaling Commission meeting just around the corner, DiveFilm"` HD Video Podcast has released as its latest episode, Shawn Heinrichs's "Whale Wisdom – A Mother Humpback's View." This short film evokes the world of a mother and calf as whaling resumes in much of the world's ocean.
Other great episodes of DiveFilm Podcasts recently released include Irish filmmaker Vincent Hyland's homage to the ocean life off the South West coast of Ireland, and more of the award-winning video entries from the 2008 Our-World Underwater / Wetpixel / DivePhotoGuide Competition, including Simon Spear's "Porbeagles in Peril" and Shawn Heinrichs' "The Sardine Run."
Shawn Heinrichs is a conservation filmmaker based in Longmont, Colorado, USA.  To learn more about Shawn and his work, please visit his website, BlueSphereMedia.com.
-Mary Lynn
Video: Whale Wisdom – A Mother Humpback's View
Video: Sardine Run: Charging Dolphins-Breaching Whales