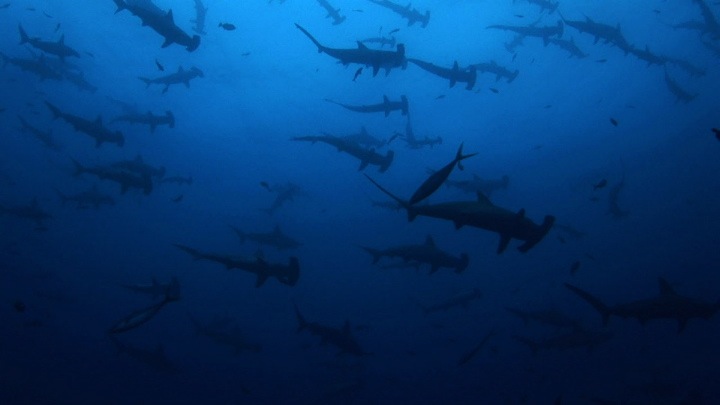 Having made the journey twice to Galapagos, it was time to complete the Golden Triangle of the eastern Pacific. The Golden Triangle is an area of water that extends from the northern most islands of the Galapagos (Wolf and Darwin), northeast to Malpelo Island (off Columbia) and northwest to Cocos Island (off Costa Rica). Within this region, flourishes some of them most abundant and awesome pelagic sea life found anywhere on the planet.
Our Journey began at the Sea Hunter headquarters on the coast of Costa Rica in the Guanacast region. From there we motored a grueling 50 hours out to Malpelo for 4 days of diving. Upon arrival we were greeted by a playful pod of pilot whales accompanied by a school of dolphins. We slowed the boat and the whales approached and circled the boat. What amazing and gentle creatures . But we had diving to do and time was a wasting.
Malpelo is a harsh, barren rock located some 250 miles off the coast of Columbia. To protect it rights, Columbia maintains a small base up on the rocks, complete with armed guards. How they get up there still confounds me! The rock may be barren but the sea life below the water is intense. Unfortunately we were not treated to one of the famous (but rarely experienced) Malpelo baitballs we had all secretly hoped for. To make up for it, however, we were fortunate enough to witness the other main attraction at Malpelo, the mass gathering of Silky sharks. On two dives, we drifted through a school of Silky's one hundred strong. The were not at all threatening and just a little curious. We also enjoyed the other regulars including schooling hammers in Sahara, many cleaning stations, morays everywhere, huge schools of big eye jacks, grunts, an much more.
After four good days at Malpelo, we were ready to head to Cocos. This time we "enjoyed" a 40 hour crossing in unsettled seas. After starring at a barren rock for four days, the site of Cocos is nothing short of breath-taking. Over 200 waterfalls flow from the heights of this rain forrest island in the rainy season. And rainy it was…. but a few hours of stay, it rained constantly, oscillating between downpours and gentle spattering.
I had journeyed to Cocos Island for one reason only, to experience and capture footage of the mass hammerhead aggregations that have given this island it reputation. The scalloped hammerheads gather by the hundreds to have parasites attached to fresh wounds removed by cleaner fish. These wounds are inflicted by either the males during breading or by other females as they establish the "pecking" order.
I had kept my expectations in check as I have so many times experienced the random nature of the oceans. One day the seas are flourishing and the next, empty. This time we struck gold at a site called Alcyone. An underwater sea mount reaching to within 25 meters of the surface, Alcyone was discovered by Jacques Cousteau and quickly became one of his favorite site. On our first dive we descended into clear waters filled to the brim with hammerheads. We made our way down the line, tucked into the volcanic rock, flipped on our cams, and hung on for 30 minutes to enjoy the show. The sea was alive with sharks, everywhere…from a few feet away to the horizon…. overhead, in front and in back! They circled in all directions. Our dive guide estimated there were as many as 500 sharks in this one location! Eventually our computers were threatening to ground us and we had to ascend back up through the schools of hammers. It was undoubtedly one of best dives of my life and more so, one of the most truly awesome experiences (land or sea) of my life.
The following days we returned to the site. The huge school was there without fail but vis was progressively deteriorating. To compensate for this, the hammers came closer and closer. On the third day, they were within touching distance for the duration of the dives, enough so that my lights could easily light them up…what a treat!
We also enjoyed many great dives at other sites. At these sites we had wonderful encounters with masses of white-tips, the largest school of big eye jacks I have ever seen (maybe 10,000), abundant marble rays, hammerheads everywhere, eagle rays, manta rays, green turtles, the impressive silver tips of Silverado, dolphins and even a near miss with a mother humpback whale and her calf. And one cannot forget the awesome and infamous Manuelita white tip night dive featuring hundreds of white tips hunting in packs creating a moving carpet of sharks a meter below.
After an incredible 5 days of diving, it was time to return home. Shortly after breaking into open water, we heard over the radio that a long-liner had been spotted in park waters. A boat was being dispatched to intercept it, while the long-liner was reeling in its line as fast as possible. Further out, we came across a factory tuna boat drawing in its massive nets.
These two instances served as a somber reminder of how at risk these amazing marine sanctuaries are. Every day, long liners and tuna boats invade these waters and extract everything they can…nothing escapes including countless dolphins and sharks, manta rays and even the majestic whale sharks. As much progress has been made to protect these waters, it is still a losing battle. What is needed is more money and direct support. Groups like Mar Viva, WildAid and Sea Shepherd are among the few groups that actively patrol these waters and manage programs to reduce poaching.
Nevertheless, beauty still abounds below the surface in the waters of Cocos and Malpelo. It is a marvel I look forward to experiencing again with great anticipation.