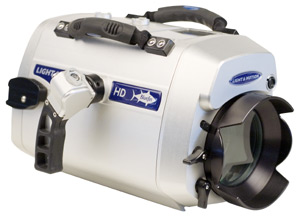 BACKGROUND
As some of you know, I have been around the block more than once in an effort to get a HDV set up I am happy with. I have finally settled on the Sony FX1 (NTSC) and Light & Motion  Bluefin HD Housing with 80 degree wide lens. The following is my comprehensive assessment of the set up. For reference, before "diving" into HDV, I was shooting with the Sony TRV950 and Light & Motion Bluefin with 80 degree and was quite happy with the set up. As additional reference, I frequently shoot side-by-side with my buddy Nick J. who uses the A1 in a USVH housing.
INTRODUCTION
Several  Wetpixel forum members including Dan Deck(videodan) and Dan B. have already provided excellent reviews on this  housing . I hope to supplement their reviews with my personal experience with the housing. Also, I recommend reviewing the slideshow Dan Deck created which provides great views of the housing inside and out (http://photodan.smugmug.com/gallery/1062024). Dan, I hope you don't mind me referring to images from your review for visual references.  Please note, all views expressed in this review are based on my personal experience which could differ significantly from experiences of others. I welcome any disagreement or corrections. Finally, this is a detailed and exhaustive review! Just skip around to any sections that might be of interest to you.  So, let's get started.
CONFIGURATION
Sony FX1 (NTSC) HDV Camcorder at 1440×1080 (60i)
Light & Motion (L&M) Bluefin HD Housing
80 degree wide conversion lens (flat)
2.5in ext monitor
Light & Motion HID Pro light system
Sony DVM63 HDV Tapes
FORM FACTOR
Weight
The dry weight of the Bluefin HD will vary with configuration. A standard configuration (flat port, no lights, no external monitor) will have a dry weight of 26 pounds. Dive ready weight including the camera is 33 pounds with a buoyancy just slightly negative in water. Fully loaded Pro Travel Package (UWA adapter, pro lights, and remote monitor) will have a dry weight of 44 pounds and a buoyancy just slightly negative in water. Source: Light & Motion
My field tests found the manufactures information to highly accurate. On land this is one set up you would not want to drop on your foot! In water, it is relatively weightless (with and without lights). This is a major improvement over my Bluefin 950 set up which I found to be too negative underwater when lights were attached. When shooting without lights, use all four internal track weights. When shooting with HID lights, remove two of the internal track weights. Both of these configurations provide for slightly negative buoyancy. More on track weights in the "Balance" section.
Dimensions
Length: Along the Housing base is 14.75 inches (37.5 cm). Optics will extend this a bit.
Height: Housing (no lights) is 9.5 inches (24.1 cm). Batteries will increase this to about 10.75 inches (27.3 cm). An external, top mounted monitor will increase this.
Width: Outside of the control handles is 13.5 inches (34.3 cm).
Source: Light & Motion
Again, my measurements agree with the manufacturers. This is a housing for those who are willing to make the necessary sacrifices to get great footage. Bad back, hate inconveniences, struggle in currents…no need to read further…this is not a housing for you. That being said, when you compare the size and weight of this housing set up to the other FX1/Z1 housing choices,  I believe it is the smallest and lightest of the lot.
Balance
Using the internal adjustable weight system, I found I could quickly adjust the housing to be balanced front to back. Roll balance proved to be more challenging as I found that the housing tends to roll to the right. The roll is only slight and did not cause any issues for me. I assume the roll is a result of the asymmetrical shape of housing where it bulges out on the right side. As mentioned above, I chose to use all four adjustable weights when not using the light/battery setup and two weights when using the lights. I found that optimal balance was achieved when I positioned the right side adjustable weights toward the back of the housing (away from the lens) and the left side around the middle of the tracks. Overall, I think the internal adjustable weight system is an excellent innovation by L&M , where adjustments can be made in just seconds without the need for any tools.  They put a lot of work into balancing this housing and it performs.
Transportation
I own the Pelican case with custom foam and I manage to fit the housing and all accessories without much difficulty. The case is solid, rolls nicely, but it is large. Furthermore, TSA personal (as well as anyone else working in baggage) seem to really enjoy cutting the locks and rummaging through this nice case and messing with the contents. As such, I have switched to carrying it on. I load my camcorder into the housing, leave handles and lens attached, and place a sturdy lens cover on. I have modified an Eagle Creek Voyage 65L Backpack (http://www.eaglecreek.com/10051.html) with a full foam lining. I place the housing (camcorder loaded), HID light system, 2.5 in ext. monitor, batteries, chargers, parts and L&M tools in the pack and zip up. Fully loaded, the pack weighs in around 22 kilos (50 lbs). The pack fits nicely in most "reasonable" overhead compartments (better than most of my "carry-on" size roller suitcases). Once on my back, the pack is reasonably comfortable and does not draw much attention (it is surprisingly streamlined). I have so far carried it through major and small airports in several US cities (including secondary TSA screenings), Japan, Singapore, Indonesia, Thailand and the Philippines without issues. I hope my luck holds. An added benefit is that I don't require a second carry case for my camcorder….less luggage.
Given the above, there is no denying the fact that the FX1 and L&M housing (any choice  of FX1/Z1 housing for that matter) is a handful to carry. Transporting to you dive location, carrying on/off the boat, getting in/out of the water can be quite tiring. It is a back/biceps workout! And, though I carry it on, I still  must deal with the paranoia that I will be forced to check it at some point. If you are looking for portability/convenience as a primary buying decision, purchase the Sony A1. If you are targeting  high performance, of the choices available, the FX1 and L&M housing is probably the least bulky and lightest choice of the quality FX1/Z1 housings available today. Once in the water of course, the set up becomes virtually weightless and will probably prove to less cumbersome than several of the A1 housing set ups available.
Assembly
Less than 5 minutes to set up…..a signature of L&M has been the ability to assemble/disassemble and configure your housing in minutes.  The camcorder mounting tray, plugs, wires and door latches are all engineered with precision craftsmanship. Frequently I am rushed to get my video gear ready to go because of a late arrival, changes in dive plan, change in weather/light conditions or just poor planning on my part (took a nap at the wrong time). In less than five minutes, I can attach the light system and external 2.5 inch monitor, remove/position the adjustable weights, mount my cam and install the tray, and have the system ready to go. This was also true of my Bluefin 950 set up. This kind of dummy proofing has saved my butt more than a few times. With so much involved in planning and executing a dive plan while capturing the best footage I can, this convenience is very welcome. I have not seen better configured, more modular housing option available for the FX1/Z1. This is an area I give L&M high scores.
CONTROLS AND FEATURES
Record
-Two record buttons (one on each handle)
-Buttons are responsive and intuitively placed. Dual buttons provides for both redundancy and convenience.
Zoom/Wide
-Single-tap slow zoom/wide (for use while shooting) and double-tap fast (to get to position before shooting) located on right hand grip.
-Slow zoom/wide is constant and provides an excellent zoom rate for use while shooting. The double-tap fast zoom is a bit cumbersome as it some times hard to get the "double-tap" timing right to engage the fast zoom/wide.
Auto focus
-Auto focus default setting
-Works excellently. Only under severely challenging visibility or when shooting low contrast distant subjects does the camcorder sometimes hunt. For most shots, auto focus works quite well. This is good news for lower light situations where manual infinity wide does not provide sufficient range to capture mantas flying in and over you.
Manual Focus
– Dual Momentary AF buttons (for locking focus on a subject) located on right  & left  hand grips
-Works great for locking on a macro subject or slow swimming pelagic. Easy to turn on/off using AF Off/Off button. Holding the button also turns the camcorder onto standby mode.
Full Manual
-Near/Far (in Momentary AF mode) buttons (for focusing in close or out to infinity) located on left hand grip
-Mainly used for setting infinity wide, works great for capturing footage of pelagics and reef-scapes. Any adjustment between infinity or maximum close focus is all but impossible with these buttons…the adjustment calibration is just too fast. This was also an issue with my Bluefin 950 set up. I assume this was designed to get you out to infinity as quickly as possible. A single-tap slow, double-tap fast focus (like the zoom mechanism) would be a welcome improvement.
Lights (On/Off)
-Lights on/off button located on left hand grip
-As with all of the electronic controls on this housing, it uses an infrared beam to transmit the setting. Unlike the other functions, this is the only external infrared command. If the external battery packs are not aligned flush with the back of the housing, the command is not executed. As I do not switch on/off my lights frequently (it is bad to to that with these HID lights), it is just as convenient for me to power the lights with the manual buttons located on the battery packs. Furthermore, I prefer the convenience of a wireless connection to the control of my battery packs as I often just use one light to conserve my batteries.
White Balance
-Manual white balance on/off button located left side of housing (#4 in line of 4 manual buttons positioned closest to rear)
-This is conveniently located and difficult to accidentally bump. As I always shoot in manual white balance mode, this button is left "on" throughout the duration of my dive. Occasionally for over-under shots, I switch to auto WB.
-White balance set (in manual WB mode) button located on left side of housing, right behind bottom of left hand grip
-This button is NOT conveniently located and requires some serious maneuvering if you are using a WB slate. If you are balancing of the surface of the water, are any other surface for that matter, you simply depress the button with your left hand. The problem arises if you are holding the housing in your right and a slate in your left hand…no more hands! What I found to work best (when I am balancing off a slate) is to cradle the housing in my right arm the way one would carry a football. I reach under and around the housing with my right arm and place one of my right fingers on the WB Set button. With my left hand now free, I position the slate in front of the lens at the desired angle and distance, then press set with my right hand. I use the native 16:9 monitor exposed through the top port on the housing to confirm my WB is set correctly.
All of this however is entirely acceptable given that fact that this housing offers true manual white balance by accessing the native manual WB set button directly on the camcorder. I have already expressed my opinions (and others have agreed) that electronic WB applied to the FX1/Z1 simply does not work correctly. Using true manual WB, the results have been stunning in comparison to electronic WB. The blues, reds and greens are cleanly captured. Contrast is excellent with dark blacks and bright whites. An easier to access WB set button would be a nice improvement but never as a sacrifice for true manual WB.
Shutter Speed
-Manual shutter speed on/off button located left side of housing (#2 in line of 4 manual buttons positioned 2nd closest to rear) with speed adjusted using menu dial located toward bottom of housing door
-I rarely use this button underwater except during some night shots that are blown out. Conveniently located and works great.
Gain
-Manual gain on/off button located left side of housing (#3 in line of 4 manual buttons positioned 3rd closest to rear)
-Again I rarely use this button as I must choose which gain setting will be activated (0 – 18db) prior to entering the water. Using the rear menu buttons, one could adjust this incrementally underwater in camera menu mode. Functionally speaking, this would prove far too cumbersome. Access to the 3 stage gain lever would be a nice improvement and make this function more useful to me. As it is, I have gain set to 0 for instances where the camcorder is boosting gain too much to compensate for low light.
Iris
-Manual iris on/off button located left side of housing (#4 in line of 4 manual buttons positioned 4th closest to rear)
-This is a conveniently located button which I use on certain occasions (night dives and shallow bright environments). In combination with manual iris dial, one has access to full manual iris when controlling exposure.
-Manual iris dial locate on left side of housing in front of left hand grip
-This dial was constructed beautifully. No harsh pressure is exerted on your camcorder's iris dial underwater. Control of iris is clean, smooth and easy to increment. L&M did great work designing this dial.
ND Filter
-ND 0/1/2 lever located left side of housing above iris dial
-This is a conveniently located lever which I can actuate with my left hand while still holding on to the left hand-grip. I use this level frequently for shallow, brightly lit shots where my subject is being blown out and too much "haze" is appearing the shot.
-This lever was also constructed beautifully. No harsh pressure is exerted on your camcorder's iris dial underwater. Control of ND lever is clean, smooth and easy to actuate. L&M again did great work designing this lever.
Pic Profile/Menu/P-Menu/Sel-Exec Dial
-All located on the housing door,  these buttons and dial provide access to all camcorder internal menus, picture profiles, etc.
-Underwater, I don't mess with these too much as I don't find much need to. The select-execute dial is clean, smooth and again does not cause wear on the camcorders dial.
On/ VCR
-The red button located on the rear door of the housing takes the cam from standby to record mode when pressed once and to VCR mode when pressed a second time.
-One must check to be sure the cam is actually in record mode when they enter the water and not in VCR mode. If it is in VCR mode, one press of the button and you are back in record mode.
VCR Function
-In VCR mode, most VCR functions are available using the buttons on both hand-grips
-I have found the VCR mode to not be of much use to me. The main reason why is that none of the buttons are marked with the corresponding VCR function. This requires that I memorize a lot of buttons. I am sure if I sat down and did this, I would memorize in a short time…perhaps I am just too lazy. The other major issue is there is no End Search.  To ensure you don't overwrite footage and for logging and capture, having no breaks in your recording is really convenient. Without End Search, I would have to be sure to do a manual stop on the tape in VCR mode prior to the end. Again, too much work when what could be valuable footage is at risk or being overwritten. This being said, if you need to access your material on the boat or underwater, it is nice to have access to it.
Optics
-Flat port included
-80 degree wide conversion lens additional (flat lens)
-The housing comes with a standard flat port. With underwater distortion, you FOV is greatly reduced. As such, the flat port is really only useful for macro. My main focus is wide angle so I don't use this lens except as a back up.
-The 80 degree wide conversion lens is my primary lens. It offers a good FOV and provides for a crisp and bright picture edge-to-edge. Of critical importance is the fact that there is absolutely NO vignetting with this lens so all 80 degrees of FOV are useable. I have not observed any fall off of light toward the edges. This is a surprisingly large lens (=good b/c more light is let in) for an 80 degree view. Perhaps this is one reason why there is little or no edge fall off. This is a solid lens that is well constructed. Both internal and external optics are all glass. The lens is protected by "petals" that extend beyond the front of the lens by almost 3 inches on top and bottom and 1 inch on the sides. The lens also has a 1/2 inch border between the edges of the glass and the perimeter. This also affords good protection. The exterior surface of the lens is NOT coated  (the inside is coated)  which means you are not at risk of chipping or scratching your coating…very easy to do with coated lenses. In addition, you can maintenance and clean your lens surface without severe risk or scratching it. Overall, for a flat wide lens, L&M have done an excellent job delivering performance and quality and the results show in the captured images.
Monitor
– Window to camcorders native 16:9  hi resolution monitor located on top front of housing
-This is another area where L&M hit the nail on the head. Hands down, the native 16:9 monitor on the camcorder offers far better image quality and size than any external monitors available for any FX1/Z1 housing. This monitor is invaluable for accurate white balancing, macro shooting and shooting up. Actually, I use the monitor 90% of the time. What L&M did right was to build a view pane on the housing that was larger than the monitor. They then put the excess view area back of the monitor to make viewing from the back of the housing much easier. This increase the angle of view substantially and all but eliminates the need for any sort of prism required by other housings. As framing and WB are such critical elements to shooting underwater, I consider this a serious advantage of this housing.
– Optional external  2.5  inch monitor
-This is a redesigned version of the earlier 2.5 inch monitor with the same  resolution but an internal batter power source added. The HDV cams do not offer power through the "hot" shoe (like the 950 and 1000/2000 did) so one must use a self powered monitor. I find the monitor small and difficult to use for 16:9 work. I use it primarily for framing shots when swimming while shooting pelagics and the like. It is not color accurate ( but close as far as I can tell) because the colors look different than the native monitor (which is definitely accurate). The batteries are built into the monitor  and one must remove a plug and charge the monitor after 4-6 divers. This works fine as one does not typically exceed 6 dives in a day. The charger is only 110v compatible however and I find this to be annoying. The risk of frying your monitor in a 220 country is quite real after a long day of diving, when you forget to use a power converter. I have fried a set of rechargeable batteries  in the past this way. That is no big deal but frying a monitor is a big deal. The monitor comes with a great articulated quick-release arm that I find very convenient to use. This is the same arm that was used with my 950 monitor. A big plus is the size of the monitor casing…very small. During the dive, you can easily just flip it down out of the way and have clear line of sight to the native 16:9 top monitor. This is not the case with the much larger monitors offered both other manufacturers that I have seen.
-Rear eyepiece providing magnified view of camcorders native eyepiece
-Honestly I never use this. I am a heads up shooter and would prefer to use my heads up monitors to anticipate the motion of a creature, framing of the shot, and diving safety measures vs. having my eye's glued to the eyepiece. I know this is personal preference and other are fine with using an eye piece…to each their own. I suppose the eye piece offers a 3rd viewing alternative if my 16:9 top monitor and 2.5 ext monitor failed…not likely scenario. This being said, having played with the eye piece,  its location, angle and magnification make it quite useable for those who might prefer to use it. An added bonus is the attached eye piece cover that should always be put on if the housing is exposed to direct sunlight. Light rays magnified by the external eye piece will damage the camcorders native eye piece if left uncovered for a short duration.
Microphone
-External amphibious microphone standard on housing
-This is a small basic microphone that works as well as can be expected. As most of us  know , most of what  an amphibious microphone  picks up is your breathing in the regulator, bubbles, and ambient crackling. This serves as low volume ambient background noise for most peoples videos and not more. As such, it does the job just fine and is really not an area of focus for me. I suppose if I was documenting whale communications, it would prove grossly inadequate…but so would any mic that comes standard with a housing.
Flip Color Correction
-Standard "red" flip color correction filter for use in all water condition
-This is another area where L&M got it right. The filter is clean, thin, and 16:9 in shape. The flip mechanism is smooth and precise, leaving little chance for movement or a "partial" flip. It is also precisely spaced away from the camcorder so there are no issues with rubbing.   Also, the filter has not border/ frame which coupled with the 16:9 design means no vignetting from the flip filter. I find the color and density of this filter to be excellent for both blue and greenish waters. White balancing through the filter works great even at depths of 20-30 meters and as shallow as 1 meter. Because the FX1 has such good low light performance, I now use the flip filter at all times and all depths while shooting. I have found this produces richer and better saturated shots. Overall, I rate the filter and the flip mechanism very highly.
Flip Macro
-Standard flip macro for wide and partial zoom through macro shooting
-Optional 2nd flip macro for use with 80 degree wide lens
-Given I primarily shoot wide angle and focus on pelagics, reef-scapes and schooling behavior, I do not use the flip macro frequently. My only testing has been using the optional ($500 extra!) flip macro with the 80 degree lens. On a positive note, removing the standard flip macro and installing the optional one is a breeze and requires only one Allen key and a couple of minutes to complete. I have not been   overly impressed with my results using this macro adapter as the macro view does not seem all that close and when zooming, creatures go out of focus about halfway through the zoom range. I will mess around more with this in the future to see if I can get better results. For now, I would have to give this feature only a fair rating.
Pressure release plug
-Screw out pressure release valve located on back door of housing
-This is a nice little feature that keeps your o-rings intact and prevent the door of the housing popping open into your face when you open it after a flight. The larger housings associated with the FX1/Z1 have much more air than the 950/1000 housings did. This air can really expand and create substantial pressure in the housing and on the o rings. Just remember to screw this back in before diving or bye-bye camcorder and housing electronics!
Carry Handles
-Dual carry handles (cordura/rubber) located on each side or top of housing
-These are another nice, well thought out feature of the housing. The handles are located in a convenient position and are comfortable to hold. For handing in/out of the water, dual handles provide added security and two options for the handler to choose from (depending on which direction you are facing). What is also very important is that the handles are (a) low profile and (b) do not obstruct the view of the native 16:9 monitor on top of the housing. I have seen other instances with housings where this is not the case and as such, those handles are not usable. Overall, these well designed and durable handles are a great addition to the housing.
PERFORMANCE AND TEST RESULTS
Resolution and Picture Quality
Excellent – The lines of resolution and effective picture quality are a huge step up from the TRV950. Images are bright, crisp and well saturated. (as a note, when I tested electronic white balance on another housing, the image was not well saturated except in shallow waters. At the time, I believed this was a HDV issue, but now having used manual white balance the saturation has been excellent). My TRV950 had stated lines of resolution of 720×480. However, actual lines of resolution captured in testing (see  http://www.camcorderinfo.com) is less than half this number. The FX1 has 3 large CCD sensors and a huge front lens. Together these deliver 1440×1080 resolution…almost 4x the that of my 950 and more than 6 times the amount of information. This means stunning quality for HD delivery. What it also means is over a 50% increase in the quality for standard DVD encoding where standard DV camcorders fill less than half the available resolution. I have tested and validated this with my own content. So, if you are still delivering on standard DVD (like most of us), this camcorder will offer significant current value, with the added benefit of having HD files for computer delivery and future HD DVD delivery. Range for color saturation (how far out you still get color in your image) is also exceptional. Overall, I am very happy with the results I am getting and I believe the investment in the HDV set up has been well worth it.
Field of View (FOV )
Good – The 80 degree wide lens offers a good field of view. In many instances, having a narrower field of view than a super wide lens turns out to be more forgiving, as getting up close to that whale shark or great hammerhead can be difficult at times. That being said, for reef panorama and close up pelagic shots, I could certainly use a true 100 UWA lens. This will of course be costly. When I purchased the 80 degree lens, I really looked at it as a transition lens until the 100 UWA was available. Having shot with the lens now, I am in less of a hurry as I have found the results to be very good. L&M has targeted a release of the 100 UWA lens this summer. I understand that they are still working on it to overcome any possibility of vignetting in the final product. I support this cautious approach because I firmly believe that a modern UWA lens for today's HDV camcorders should not vignette. Overall, I rate the field of view as good, with the acknowledgment that I am looking forward to the 100 UWA. Both lenses would then be used regularly in my shooting.
Low Light Performance
Excellent – I have been actually shocked with the impressive low light performance of this set up. It has far surpassed my expectations. I have done shots at 25 to 30 meters in 12 meters of visibility using the color correction filter. The resulting footage was brilliant, crisp and saturated. It looked like it had been shot at 10 meters on a bright day. The captured footage was much better than what I actually saw through my mask on the dives. My dive buddies commented that it looked like a different (and much better) dive altogether! Even late afternoon/evening shots are bright and crisp. I assume the low light performance is a result of (a) 3 large CCD sensors, (2) a large lens on the camcorder and (c) a nice large 80 degree wide conversion lens. I can only imagine the performance with a 100 UWA lens.
Stability
Very Good – One of the few benefits of a large housing is significantly increased stability of images. With my 950 set up, I had to work hard and concentrate to get stable shots. In current, surge and fining, this was all but impossible. As we all know, a great shot can be ruined by camera shake. World class footage becomes throw away material. The larger Bluefin HD housing is noticeably more stable. Even while fining and in current, reasonably stable shots can be attained with relative ease. In still conditions, shots are rock solid. That being said, professional macro shooters should still plan on using a good tripod. Minor shake on macro is still quite hard to overcome.
Ergonomics and Handling
Good – As stated already, this is a large housing. Transporting, entering and exiting the water can be work. Once in the water, you can dial the housing to be balance and neutral to slightly negatively buoyant (my preference). The added resistance in the water adds a lot to the stability. In less challenging dive environments, I hardly notice the volume of the housing. In strong currents, the volume becomes more of an issue. The L&M Bluefin HD is perhaps the most streamlined of the FX1/Z1 housings, but it is still bulky in current. Finning hard into currents or chasing after whale sharks in Donsol is fatiguing. If you frequently dive in currents and focus on pelagic shooting (my focus), physical fitness is really an added benefit (and perhaps a requirement) with this housing. Overall, I am passionate about getting the best raw footage I can afford and I find the bulk of the housing well worth the tradeoff. If I could get the same performance (and stability) in a materially smaller set up…bring it on. Today and perhaps for a long time, this is not an option.
Reliability
Very Good – I have only had the housing a short time, so any statement regarding long term reliability would not be reasonable. That being said, my initial tests have have not yielded any issues and based upon the careful construction of the housing, I hope this continues to be the case. All mechanisms are precise, smooth and solid. Parts are fitted well and o rings seal evenly. Areas that are exposed to force are reinforced and engineered to be strong.  I have also heard legitimate concerns voiced by others regarding L&M electronic hand-grips and reliability. My personal experience with the L&M hand-grips (Bluefin 950) has been problem free. I hope I have the same experience with this housing. If a failure were to occur, there are numerous redundancies designed into the set up. Each hand grip has a record and manual/auto focus button functioning at all times (you can shoot with either hand). If a hand-grip fails, a press of two buttons on the other hand grip switches all functions from the failed hand-grip to the functioning hand-grip (this is really relevant if the right primary hand-grip were to fail). The housing comes with a spare battery and o ring kit kit for the hand-grip. So if a battery dies, you can replace it immediately following your dive. Finally, because I like to cover my bases, I purchased a replacement hand-grip circuit board that I can replace in the field. I would need three circuit board failures before I am out of luck (I suppose this could happen in extreme cases). As a final back up in a worst case scenario, I could turn my camcorder on record before my dive, close up the housing and burn through a tape on each dive! All manual button functions would still be accessible:) All this being said, for every housing manufacturer, there are always a number customers who have experienced the worst case scenario and are forever turned off.
CONCLUSION
Overall, I give the FX1 and Bluefin HD combination an excellent rating. I am delighted by the performance and quite happy with the controls and handling. The only real drawback is the size and weight of the setup. I believe that the L&M housing is the smallest and most ergonomic of the FX1/Z1 housing choices, however, it is still quite large and cumbersome. I am also looking forward to testing the 100 UWA lens for close up pelagic shots and reef-scapes. This lens would be a great addition to my UW video toolbox and serious professionals will expect it to deliver. As a serious and critical customer, I expect (and even demand) the highest quality and performance from an investment of this kind. L&M has paid attention to market requirements and have listened to their customers. In my opinion, the Bluefin HD represents a significant leap forward in design and performance for L&M housings. Issues with prior housings have been addressed and many already good features improved upon. I would recommend the FX1/Z1 with L&M Bluefin HD housing to anyone committed to capturing great underwater footage.