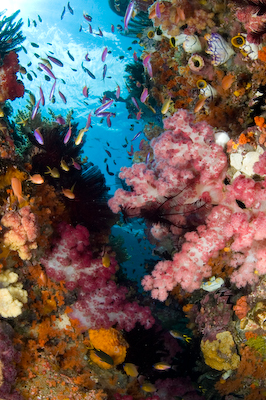 Blue Sphere Media has been engaged by Misool Eco Resort to create professional DVD and trade show content showcasing the world class dive sites and stunning island scenery of the resort. These materials will be used to promote the resort to divers across the globe and as an essential component of the investment collateral.
Misool Eco Resort is currently in the early stages of construction. Rounded by Andy Miners, the resort will cater to serious divers and casual divers alike. With five star facilities and house reefs second to none on the planet, the resort will be a must visit for any diver willing to make the trek.
Misool Eco Resort is located in Raja Ampat, west of Papua amidst what are considered some the most remote and unspoiled reef systems in the world. The operation is intensely conservation focused. The objective of the resort is to create a sustainable operation that contributes to the environmental and economic well being of the region for years to come.
Phase one of this project was to create a short trade show video and handout DVD using existing footage. This work was completed over a period of four weeks. The materials were a hit and served to generate substantial customer and investor interest in the resort.
Phase two includes assistance with the identification of possible investors and communication to investors of the resorts value proposition and investment appeal.
Phase three kicks off in late 2006 with full onsite video and photo shoot featuring primary dive sties, land locations and the future sites of resort facilities. These materials will form the basis of a professional resort promotional DVD.