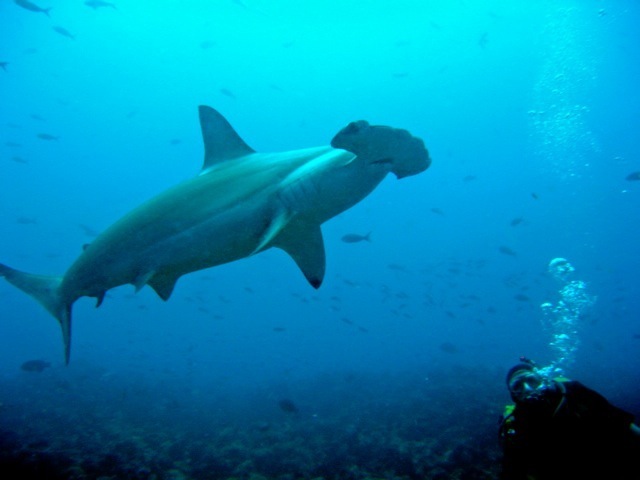 Located 600 miles off the coast of Ecuador straddling the equator, lies the volcanic archipelago of Galapagos. Formed 90 million years ago and composed of 14 islands and 107 islets, Galapagos is one of the most complex oceanic archipelagos in the world. A Biosphere Reserve since 1995 and a World Heritage Site since 2001, these remote islands attract some of the most abundant and diverse gatherings of pelagic marine life found anywhere on the planet.
This was our second visit to Galapagos and we were just as excited as the first time. Our sights were on Darwin, the northern most island of the Galapagos with the famous rock arch protruding from the waters. Below those arches, the waters are boiling with sea life. Hammerheads, galapagos sharks, black tips, silkys, dolphins, eagle rays, green and hawksbill turtles, wahoo, tuna, jacks, mackerel, seal lions, dense schools of creole wrasse, and the biggest of the biggest of all fish, the whale shark. As hoped, Darwin delivered on all of the above. Because of the Spring Tides, visibility was quite poor. The density and proximity of the sea life made up for this however. We enjoyed incredibly close encounters with hammerheads swimming within arms reach. To top it all, we had several whale sharks come gliding through the group like freight trains, the largest being a pregnant female over 10 meter long!
Galapagos is not just about the big stuff. At the island of Bartolome, the northern most penguins in the world have made their home. There are perhaps several dozen of these cute little birds in the Bartolome flock. They are elusive and hard to spot. A snorkeling encounter with one or two is a treat. We had the great fortune of stumbling upon a mini baitball of glass fish being herded but two dozen of the penguins. The penguins were darting and twirling as they drove the ball to the surface. Sea lions swooped up from below to get in the action while pelicans and sea gulls plunged from the air into the waters with mouths wide open. All of this activity was generated by these wonderful little penguins. After swimming through dense schools of hammerheads, beefy galapagos sharks and behemoth whale sharks, we thought nothing more on the trip would would catch our attention. We never would have guessed that these little penguins would be the crescendo.