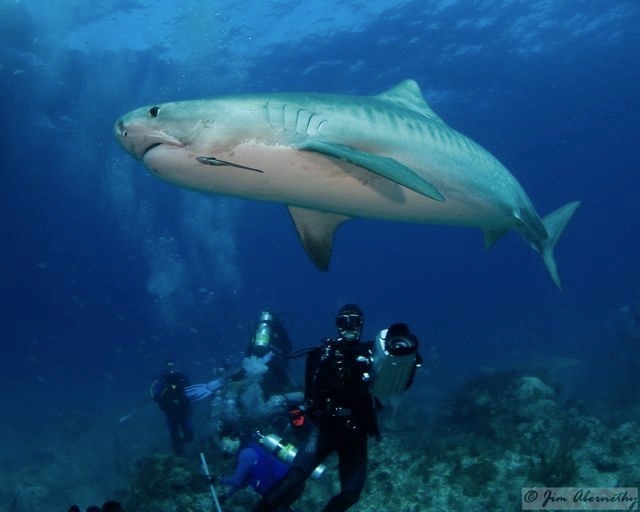 One can never get enough of Jim Abernethy and his ladies…in this case 10 to 15 foot tiger sharks. Having just wrapped up the initial shoot of Shark Angels in November with Jim on the Shear Water, I needed to return to collect more footage for the film. This time however I brought my brother Brett with me. He had never before experienced diving with tigers, lemons or many of the other sharks found in the Bahamas.
As always Jim delivered in spades. As much as the weather conspired to keep us out of the water, at the first sign of a break Jim found a way to get us into the water and into the action. On several dives we had at least 8 tigers! For me this trip offered the unique opportunity to film the tigers interacting on the reef. For the most part I had spent time with them on Tiger Beach or hanging on the downline. Tigers on the reef offered some excellent shots as they swam through the whip corals, sponges and shoals of reef fish.
Diving, filming and spending time with Jim and his ladies is always a treat. By the time I step foot off the boat, I am immediately looking forward to my next trip.